Photo Gallery
A selection of images from the "Any Swing Goes" weekends
And images from other Rock the Block events
Swing 'n' Blues Extravanganza : Wymondham, 5 June 2004
The Capel Crowd : The crowd at Capel St Mary
A selection of images from "Any Swing Goes" Bylaugh, October 2008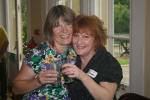 The two that you have to keep on good terms with!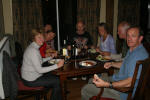 While Jon shows a degree of aggravation that his party trick of 'magically' transferring a piece of bread from his right hand to his left hand has been interrupted, Celia is confused, has she had thought that it was only beer that came with a head on it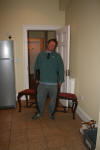 Colin became confused when the crowd called for a resounding call of "three cheers" for Linda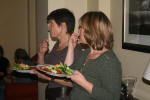 Having heard that the latest Olympic sport category was to be sychronised eating, Caroline and Helen decided to get in a bit of practise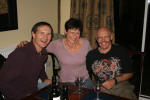 Celia looks particularly pleased with herself having achieved a life's ambition of having a Dick in each hand
Jan takes the notion that vitamin C fends off colds somewhat to the extreme, while Louise points out to Randel that her 'hubby's' name is Bill and not Brillo, despite the fact that she may use the back of his head to clean the more resistant stains from her pans, on occasions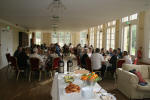 Breakfast Saturday morning - the calm before the storm!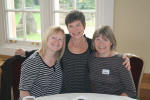 Parallel thinking?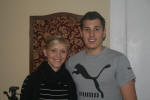 Hence and Jojo - weren't they great?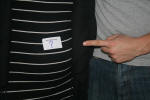 Oh! and plus a bit!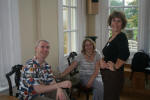 Smiles!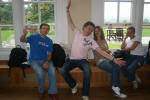 Despite the copious use of deodorants, Jan is not too sure that Mike has won the war on BO!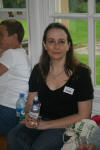 We tried everything to help Jane remember her name!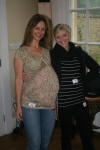 Jan's unerring crusade to open up the international appreciation of the cushion has moved into exploring its use as a medical implant .... or is there something she and Mike have to tell us?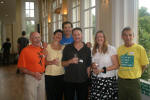 What a nice bunch of people... a shame, we don't get more of them!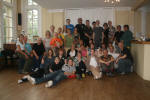 Yes, a nice bunch of people!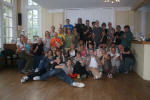 .. and the joint winners of the First UK All Comers Open Swedish Booge Dance Competition!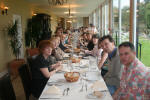 A rare moment at breakfast, when Barry, Richard, Claire, John and Caroline were all caught 'Whistling Dixie'!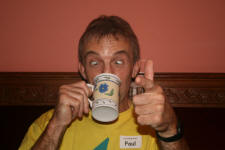 As they say.... there is, of course, always one!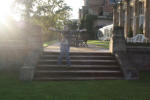 and finally..... a break in the weather allowed the group photograph to be taken on the steps, although one or two people had left by then.
A selection of images from "Any Swing Goes" Bylaugh, March 2008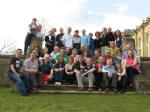 The band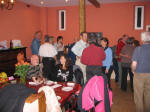 Having met the group on the Friday evening, Bill and Julee wonder if its too late to cancel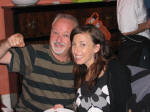 Bill points out that while nobody is watching, he and Julee could make a run for it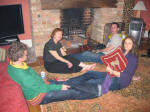 The complementary yoga session takes on a more relaxed approach than might have been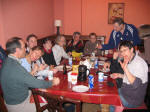 Lesley puts on a brave face despite have contacted CHFOS (Constant Head Falling Off Syndome) during one her latest overseas visits, which apparently has nothing to do with the result of listening to Jon drone on and on about the delights of separating oil and water 3 miles underground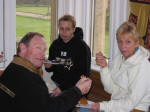 Old friends!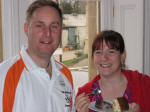 Old friends, but not so old!
A selection of images from "Any Swing Goes" Bylaugh, September 2007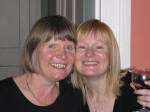 Who let the blonde bimbo's in?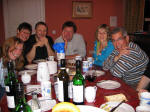 After the first day's class, the wino's sit around to discuss the finer points of everything they had already forgotten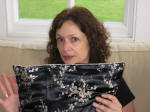 Having given up on Swiss soft furnishings, Jan maintains her defence of the scatter cushion as a vital piece of decor in the typical Swedish household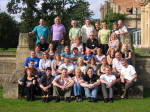 A much more concilliatory group return to the outside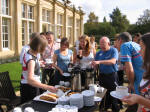 Afternoon tea - just in case anyone was hungry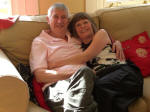 Having decided to make everyone on the weekend a crew member, Al and Linda realised that they had nothing to do and could sit back and relax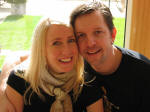 Hasse and Marie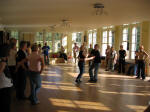 A class in the Orangery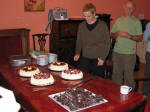 Louise demonstrates her culinary skills by making four of the largest 'smarties' that any of us had ever seen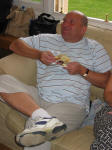 Ray secures his normal location (and position) for the workshops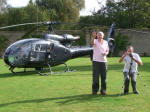 During a review of the early rushes from the weekend, I was appalled to find that the event had been infiltrated by the papparazi, and in particular, the small features photographer from "Gnomes and Gardens". Is nothing sacred?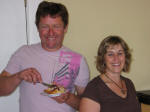 Colin considers whether slitting his wrist might be better than another marathon session with H&M
A selection of images from "Any Swing Goes" Bylaugh, March 2007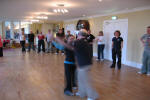 A class in the Orangery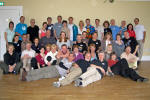 In a fit of anarchy, the group decided that they would pose inside this time, and boy are there some posers amongst them!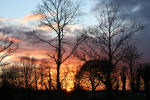 A view from the Hall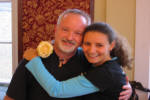 Aaaah! arn't they sweet!
A selection of images from "Any Swing Goes" Bylaugh, September 2006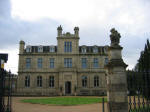 Bylaugh Hall, in all its glory!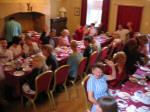 Dinner in the Courtyard Mews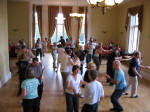 A class in the Ballroom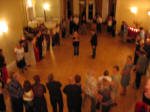 The evening Cabaret slot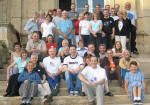 The Group this time!
A selection of images from "Any Swing Goes" Bylaugh, March 2006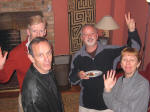 Bill Borgida shows his impersonation of 'Sooty' with no clothes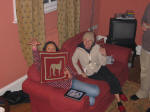 Maria explains to Jan that not matter how nice it may be scatter cushions are not 'de rigeur' in Zurich at present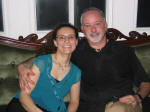 Bill and Maria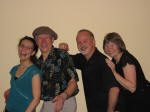 What can I say?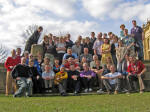 Here they are again!
A selection of images from "Any Swing Goes" Bylaugh, September 2005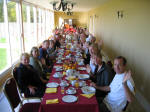 Breakfast at Bylaugh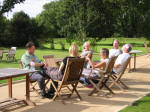 Relaxing at lunchtime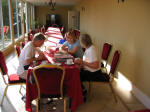 The essential part of any workshop is making good notes!!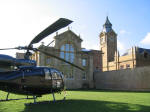 Style, or wot!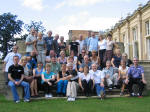 Here we are again!
The Crowd at "Any Swing Goes" Bylaugh, June 2005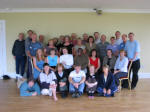 The Group
A selection of images from "Any Swing Goes" Bylaugh, March 2005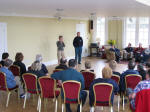 The group listen with intense interest as Julie Oram and Lennart Westerlund describe the coincidences that led to the rennaisance of Lindy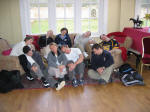 Intense listening can be very tiring!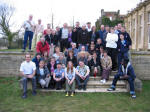 The group
A selection of images from "Any Swing Goes" Bylaugh, September 2004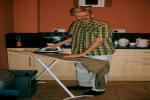 Mark, the 'modern man' uses the opportunity to practise his domestic skills in readiness for Hoc's sojourn to the Antartic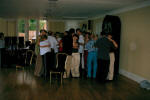 Dan & Christi resort to desparate measures to simulate the crowded conditions of Balboa Island in the 30's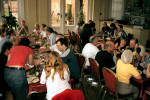 Meal time at ASG's is a hectic affair. Mark wonders why no one has joined him saying 'Grace' while Alison calmly explains to Kevin that Bylaugh is not the place to train for his attempt at the world speed record to push a bread roll into his ear.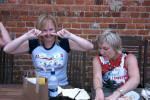 Claire and Sara wear tokens of the heads they have taken on the dance floor, while Claire does all she can to keep the morning lesson in her head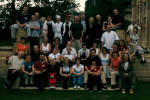 The ASG group
Bylaugh Sept 04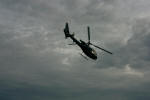 Emergency measures are brought in when the air conditioning in the dance hall breaks down

Lunch!
Swing 'n' Blues Extravanganza : Wymondham, 5 June 2004
Nigel teaches everyone how to applaud in readiness for the evening Cabaret

Sharon thinks, "It's no good waving your arms Liz, you're not having any of my water"

Having sent Nick to Coventry during the morning session, he gets his own back at lunchtime by being the only one to remember his lunch box, leaving the others to wait for the bus to Tesco's

Despite her insistence, Nigel is unconvinced that he should invest in Linda's one-handed paint roller invention, while Lisa decides to practise Yoga Hop, which allows her to dance Lindy in a state of serene calm, although it has to be done on one leg

Passing through Wymondham, Buffy the Vampire Slayer mistook Andy for her sworn enemy Count Dracula, but narrowly missed him with her stake

Nick turns the other cheek, uninterested in the bargain that Chris has found in Specsavers, while Pip continues to drink his tea from the top of his deodorant canister

Posing for a group shot, Larry decides to put his new baby aerials skill into practise

After a hard morning on the workshop dance floor, everyone is pleased that Nigel's musicality class involves sitting down. Nigel is equally pleased that everyone's snoring hit the break

During Nigel's intensive class on musicality he demonstrates that no matter how many times you write the word, 'HIT' you need to use two cross bars
---
The Crowd at Capel St Mary
Having learnt that Balboa was danced on a crowded floor the gang at Capel St Mary take their positions for freestyle
A selection of images from "Any Swing Goes" Bylaugh, March 2004
---